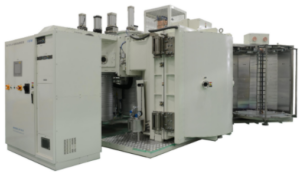 This equipment, employing vertical double door open mechanism is applied to deposit Al reflection film and superposition SIOx  protection film on the reflection board of automotive lighting parts and decoration. Perform film metallization on the PC,BMC,ABS metal materials.
Features
● Adopt vertical double door open mechanism, tight compact.
● Each door is equipped with a set of 6-axis/8-axis self-revolution mechanism, a set of evaporation power, a set of superposition power.One door is performing film metallization, the other door can unload test part, install Al material.
● PLC control and touch screen interface, can realize full-automatic operation, easy operation. Advanced production process control program, high quality of film metallization.
Specifications