The HELIOT900 is our helium leak detector with; high speed pumping capability, user-friendly operation and guaranteed top performance in all kinds of leak testing situations.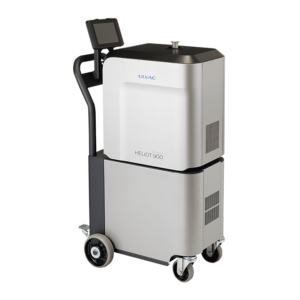 Features
High speed pumping capability:
5L/s pumping speed for helium IN ULTRA flow mode.
Tablet type controller:
Wireless remote control is standard specification.
Intuitive operation:
Simple with high-definition and eye-friendly test screen.
Various backing pumps available:
Oil rotary vane and dry scroll pumps in different sizes.
Mobile-friendly with maneuverable cart (HELIOT904_):
Low height type is also available (HELIOT901_).
Ease of maintenance:
Tool-free removal maintenance panel, easy internal access for maintenance and maintenance instructions built in.
Possible to detect hydrogen as well as helium gas by vacuum method.
Applications
Piping assemblies and separate parts.
Vacuum components and systems.
Automotive parts, air conditioning, heat exchanger parts and assemblies.
Packaging for food, pharmaceuticals, etc.
Flow and permeation rate measurement of helium and hydrogen.
Specifications
Model

901W1
901D2
904W2
904D3
904D4
Type
Base type
Mobile type
Detectable gas
4He, 2H2
Minimum detectable leak rate
(4He)[Pa・m3/sec]
<5E-13
Leak rate display range
[Pa・m3/sec]
4He
0.01E-12~E-3
2H2
0.01E-8~E-5
Inlet pumping speed for(4He)[L/sec]
5
Max. connecting pressure[Pa]
<1200 Pa
Main pump Pumping peed[L/sec]
Turbo molecular pump:31 L/sec
Fore pump:
Pumping speed(50Hz/60Hz)[L/min]
Oil rotary pump:
30/36
Dry scroll pump:
90/108
Oil rotary pump:
135/162
Dry scroll pump:
250/300
Dry scroll pump:
500/600
Weight [kg] (including floor cart))
Approx. 33(Approx. 46)
Approx. 37(Approx. 50)
Approx. 79
Approx. 74
Approx. 96
Power consumption[VA]
600
500
1100
650
1150
Input power supply[V]
100-120 or 200-240
Inlet port flange
NW25(ISO)
Startup time[min]
<2
External interface
RS232C, RS485, analog DC, digital I/O.
Language
English,Japanese,Korean,Simple Chinese,Traditional Chinese,German,Spanish,Russian
Controller unit
7inch tablet type (wireless standard: IEEE 802.11 b/g/n) (*1)
Operation range
Wired
Cable length : 2m (standard), 5m (optional)
Wireless
40m(*2)
Battery lasting time[hr]
3-5(*3)
Applicable standard
CE, IP30
CE
*1 Applicable radio law. Tablet: Telec, CE, FCC. Main unit: Telec, CE, FCC, IC, C-TICK. "Wired operation spec" that doesn't emit radio waves is also available (tablet controller has wireless radio on/off function).
*2 May change depending on operating environment.
*3 May change depending on communication condition, brightness, volume, etc.
[Sniffer Method]
Sniffer Method

AS9
BS9
BT9
Detectable gas
4He
Minimum leak rate display range[Pa・m3/sec]
0.01E-8~E-5
0.01E-7~E-3
Flow rate[SLM]
<0.03
Approx. 3
Sniffing inlet port
Handyprobe
Φ6mm tube fitting
Tube[m]
1-10 (*1)
*1 Specified length per 1m.