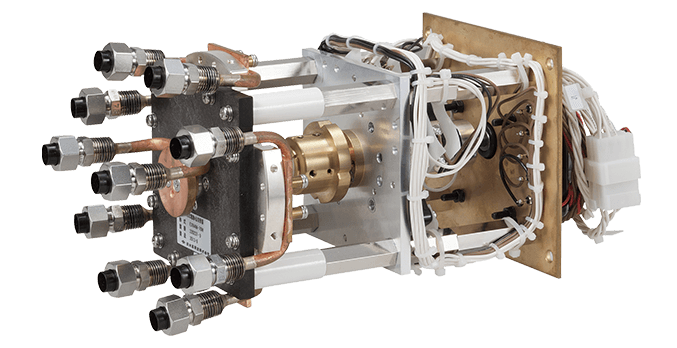 EXN series is a target switcher. It is used to switch power supply destinations to multiple DC sputtering electrodes and RF sputtering electrodes. It also can switch the output of multiple DC and RF power supplies and supply them to one electrode.
Features
Possible to switch the output of the matching box.
Since it is not necessary to install a matching box for each cathode, it greatly contributes to equipment cost reduction.
Two types of switching methods are available: manual and motor drive. A water-cooled system that can handle higher power also available.
Also can be used as a switch for DC power supply and DC pulse power output.
Since there is only one matching box, loads that exceed the matching range cannot be used together.
Specifications
Specification
Air-cooled target switching device specifications
EXN2T-40A
EXN3T-40A
EXN4T-40A
EXN2M-40A
EXN3M-40A
EXN4M-40A
Switching contact point
2 points
3 points
4 points
2 points
3 points
4 points
Hot switch
Not available
Frequency used
DC-13.56MHz
Rated current
40A
Withstand voltage
Between contact AC 10kV for 1 minute (50/60Hz)
Between contact -GND AC 10kV for 1minute (50/60Hz)
Switching method
Manual type
Motorized
Motor rated voltage
DC24V
Motor rated current
0.22A (0.75Amax)
Contact position output
Microswitch (Contact capacity 0.25A 24VDC)
Cooling method
Natural air cooling
High frequency connection terminal
O4mm bolted
Installation temperature
5℃~35℃
Installation area humidity
30%~80% (However, no condensation)