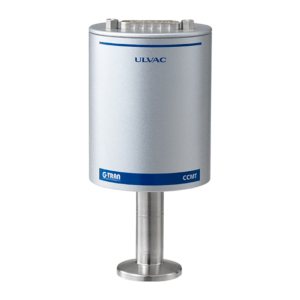 The CCMT-D series is a capacitance manometer, which detects static electric capacitance occurring when a barrier membrane made of ceramic (alumina) is deformed by changes in gas pressure.
Features
Corrosion resistant ceramic sensor
Exellent long term signal stability
Whole pressure measurement that does not depend on the gas types is possible
Shorten the warm-up Time
Temperature compensation
Sensor protected against contamination
Push button zero point adjustment
Accurate linear output (DC 0 to 10V)
Wide range voltage power supply (DC14 to 30V)
Applications
Vacuum melting or vacuum heat treatment
Thin films deposition system
Pressure reduction furnaces
Gas exchange or gas sealing etc.
PV, FPD manufacturing equipment
Specifications
Model
CCMT-D
Range full scale
CCMT-1000D
133kPa (1×103 Torr, 1.33×103 mbar) F.S.
CCMT-100D
13.3kPa (1×102 Torr, 1.33×102 mbar) F.S.
CCMT-10D
1.33kPa (10 Torr, 13.3 mbar) F.S.
CCMT-1D
133Pa (1 Torr, 1.33 mbar) F.S.
Resolution
0.003% of full scale
Accuracy *1
±0.2%±temperature coefficient relative to display value (The value indicates accuracy zero point adjustment)
Temperature coefficient
Zero voltage
0.005% F.S. /?C
Span voltage
0.01% R /?C
Operating temperature range
10 to 50?C (50 to 122?F)
Response rate
30ms or less
Material of gas contacting sections
Al2O3、Vacon70 *2、SUS316 *3 , glass ceramics solder, Ag Ti Cu hard solder
Input power
DC14~30V, 1W
Output
DC 0 to 10V F.S.
weight
329g
Dimensions
55mm×117mm
Temperature compensation
Internal temperature compensation circuit
Electrical connector
D-sub 15-pin male (No.4-40, DNC screw)
*1:Non-linearity,hysteresis,repeatability at 25?C (77?C) ambient operating temperature without tenperature effects after 2 hours operation
*2:18% Cr, 10% Ni, 3% Mo, 69% Fe
*3:28% Ni, 23% Co, 49% Fe

GM-2001
This is a controller for the ceramic capacitance manometers CCMT-D series.
Features
4.5-digit display (GM-2000)
Power supply voltage of 100 VAC/24 VDC can be selected (GM-2000)
RS485 communication function (ISG1)
Compact, space-saving
Applications
Pressure monitors for deposition system processes
Pressure monitors for evacuation systems such as vacuum melting and vacuum heat treatment furnaces
Wide range of other vacuum application systems