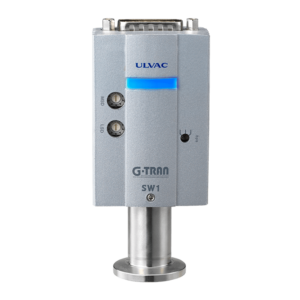 This is a wide range pirani vaccum gauge which measures from atmospheric pressure to 5 x 10-2 Pa. In addition, this gauge removes control and display panels from traditional controllers, keeping the minimum necessary functions only, thus saving cost and space.
Features
Measures from atmospheric pressure to 5 x 10-2 Pa.
Combined sensor and controller, thus reducing cables, saving space and energy.
Operates with DC 24V input
Pressure is 0 to 10V Log output
LED Error verification for better visibility
Atmospheric pressure adjustment and zero point adjustment can be done in one-touch.
Sensor unit can be replaced easily.
2 set points output (SW1-1)
RS232C/RS485 communication (only SW1-2)
Conforms with CE
Applications
Process control in low vacuum processes such as for semiconductor, optics and electronic parts manufacturing systems.
Process control in low vacuum range processes for industrial equipment such as vacuum furnaces, etc.
Process control for low vacuum system, which requires multiple process chambers, such as in-line sputtering and single wafer processing equipment.
Specifications
Model
SW1-1
SW1-2
Connectable sensor head
1 pc
Compatible sensor head
SWP-16(NW16), SWP-25(NW25), SWP-R1/8(R1/8), SWP-P18(φ18), SWP-P15(φ15), SWP-CF16(ICF034), SWP-1S(ASME BPE sanitary 1")
Measurable pressure range
5.0×10-2 ~ 1.0×10+5 Pa(Pa(表示範囲:1.0×10-2 ~ 1.2×10+5Pa)
Accuracy*
1×10-1 Pa ~ 1×10+4 Pa : ±10%
5.0×10-2 ~ 1.0×10-1 Pa, 1×10+4 Pa ~ 1×10+5 Pa : ±20%
Repeatability
1×10-1 Pa ~ 1×10+4 Pa : ±2%
Sampling time
50ms 5回の移動平均処理
Value output
Output voltage DC 0 to 10V
Pressure indication (Log) 1.7V to 8.0V 1V/decade
(Update time) 50ms
Control input signal
Open collector input, Negative logic
-
ADJ Adjustment (ZERO point, atmosphere adjust)
-
Control output signal
Open collector output, negative logic [rating: 30VMAX, 50mAMAX, 70mW]
-
Error signal
-
Set point 1, 2
-
Monitor for setpoint
Set point 1, 2: 0 to 10V Log output
-
Serial communication type
-
RS232C/RS485
LED display
POWER/ERROR: Power error LED
SET-1: Set point 1LED
-
SET-2: Set point 2LED
-
Materal of filament
Pt
Operating temperature range
10 ~ 40℃
Operating humidity range
15 ~ 80% (Not condensing)
IP rating
IP30 (Sensor unit)
Fixing position
Free
Power supply voltage
DC18V ~ 30V, 2W (4.8W w/power input)
Input/output connector
D-sub 15-pin (M2.6mm screw) - side sensor unit
Weight
150g (with SWP-16)
Dimension (Power supply) W×D×H
70mm×46mm×28mm
Standard accessories
Quick manual
Option
Input/output conector (D-sub 15-socket (M2.6mm screw)), Inspection result data sheet, General calibration test report, JCSS caribration certificate
Applicable standard
CE