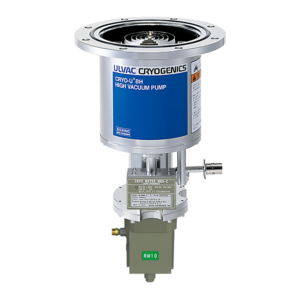 CRYO-U series is a cryopump that uses a two-stage type GM cryocooler, and It is capable of high vacuum pumping.
A wide range of products from small- to large-type are available according to the applications including FPD, semiconductors, electronic equipment, optics, and R&D.
Features
Excellent pumping performance for a 4-inch cryopump
High pumping speed improves the pumping efficiency and productivity.
Ideal for sputtering process of semiconductor manufacturing, or other small scale equipments
Up to four units can be run by one compressor.
Customized design is available to fit your needs.
Specifications
Model
U4H    
U6H
U8H / U8H-U
U8HL
U10H
U12H 
U12HL
Pumping speeds(20degrees)
Nitrogen
L/s
450
750
1,700
1,500
2,400
4,000
4,000
Hydrogen
500
1,100
2,700
2,200
3,600
6,000
6,800
Argon
370
620
1,400
1,200
2,000
3,300
3,300
Water
1,100
2100
4,000
4,000
6,900
9,500
9,500
Ultimate pressure
Pa
10-7
10-7(10-9)
10-7(10-9)
10-7(10-9)
10-7(10-9)
10-7(10-9)
10-7(10-9)
Maximum throughput
Argon
Pa・L/s
1.3×103
1.1×103(7.9)
1.2×103(8.9)
1.2×103(8.9)
8.0×102(6.0)
2.0×103(15)
2.0×103(15)
Pumping capacity
Argon
Pa・L
1.0×107
1.1×102(0.8)
2.4×102(1.8)
1.6×102(1.2)
1.5×102(1.1)
4.1×102(3.1)
4.1×102(3.1)
Hydrogen
1.5×105
5.6×107(4.2×105)
1.0×108(7.6×105)
1.6×108(1.2×106)
1.0×108(7.8×105)
2.1×108(1.6×106)
3.1×108(2.3×106)
Cooldown time
min(50/60Hz)
45/50
3.1×105(2.3×103)
1.0×106(7.6×103)
1.2×106(9.0×103)
6.7×105(5.0×103)
9.8×105(7.4×103)
9.8×105(7.4×103)
Weight of cryopump
Kg
14.5
19
20.8
20
29
40
40
Model
U16
U16P
U20P
U20H
U22H
U22P
U22WB
U30H
Pumping speeds(20degrees)
Nitrogen
L/s
5,000
5,000
10,000
10,000
17,000
11,500
13,000
28,000
Hydrogen
10,000
10,000
18,000
18,000
25,000
14,000
16,500
43,000
Argon
4,200
4,200
8,400
8,400
14,000
9,700
11,000
23,000
Water
16,000
16,000
29,000
29,000
39,000
39,000
39,000
70,000
Ultimate pressure
Pa
10-7(10-9)
10-7(10-9)
10-7(10-9)
10-7(10-9)
10-7(10-9)
10-7(10-9)
10-7(10-9)
10-7(10-9)
Maximum throughput
Argon
Pa・L/s
1.4×103(11.0)
1.6×103(12)
1.1×103(8.7)
1.7×103(12.8)
4.1×103(31)
1.7×103(12.8)
3.5×103(26)
2.7×103(20)
Pumping capacity
Argon
Pa・L
4.1×102(3.1)
4.5×102(3.4)
5.0×102(3.7)
5.0×102(3.7)
1.3×103(9.6)
5.0×102(3.7)
1.3×103(9.6)
7.4×102(5.6)
Hydrogen
4.3×108(3.3×106)
4.3×108(3.3×106)
5.8×108(4.4×106)
5.8×108(4.4×106)
8.1×108(6.1×106)
5.8×108(4.4×106)
8.1×108(6.1×106)
7.8×108(5.9×106)
Cooldown time
min(50/60Hz)
2.4×106(1.8×104)
2.4×106(1.8×104)
4.6×106(3.4×104)
4.6×106(3.4×104)
8.5×106(6.4×104)
6.0×106(4.5×104)
8.5×106(6.4×104)
1.5×107(1.1×105)
Weight of cryopump
Kg
61
61
69
72
125
115
125
175
*Maintenance interval: every 16,000 hours