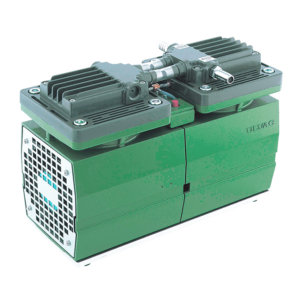 This is a vacuum pump that evacuates by the reciprocating motion of a rubber thin film (diaphragm). Simple structure and easy handling. DA series is a standard type.
Features
A standard type of dry vacuum pump with abundant results and low price.
Dry vacuum pump using no oil in the gas contact area.
Rich lineup available to suit your application.
The two-stage exhaust system has lower pressure (good vacuum) than the one-stage exhaust system.
Safety design with built-in automatic reset type thermal protector.
Operation is possible from atmospheric pressure.
Simple structure and easy maintenance.
Since the unloader valve is built in, it is possible to restart from the vacuum state.
Specification



 ※1:The gauge pressure display is shown in () of Ultimate pressure.