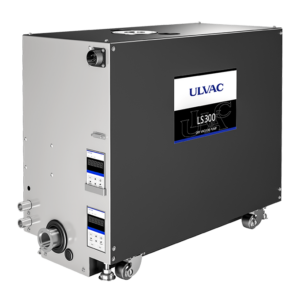 High pumping speed and Low power consumption. Model is selectable with the optimum pumping speed according to the application.
Features
High pumping speed at near atmospheric pressure, and pumping down time can be drastically reduced
ECO-SHOCK technology realizes low power consumption. (C Type)
Power consumption at the ultimate pressure is the industry-leading 0.6kW or less.(LS120A-C)
Built-in silencer achieves the noise level 61dB(A) or less.
Low running-cost
No shaft sealing gas.
※Purge gas is available with L Type.
4 Pumping speed120~1200m3/h Class ※With mecanical booster pump
Model is selectable with the optimum pumping speed according to the application.
Applications
C Type : Clean process (LS***A-C)
Feature : Low power consumption model (with built-in ECO-SHOCK)
Applications : For clean process such as air and N2
Sputtering / Vapor deposition / Lamination / Load lock room / TMP backing pump etc.
L Type : Light process (LS***A-L)
Features : Light process model (with surface treatment and purge function)
Applications : For light process such as steam and volatile liquid medicine
Vacuum drying / Freeze drying / Ashing / General industrial use etc.
Specifications
Model
(C:C Type)
(L:L Type)
LS120A
LS300A
LS600A
LS1200A
C
L
C
L
C
L
C
L
Max. pumping speed
m3/h
120
380
600
1000
Ultimate pressure
Pa
≦0.6
≦0.1
Power supply
200V Class : 3Phase, 50/60Hz, AC200-240V or 400V Class : 3Phase, 50/60Hz, AC380-480V
Power consumption ※1
kW
0.6
2.0
1.0
2.5
1.3
2.6
1.3
2.7
Cooling water flow rate
L/min
>2.0
>4.0
Purge gas flow rate ※2
SLM
ー
0~50
ー
0~50
ー
0~50
ー
0~50
Max. water vapor tolerance ※3
kg/h
ー
1.5
ー
1.5
ー
1.5
ー
1.5
Noise
dB(A)
61
61
62
64
Inlet port
KF50(Horizontal)/VG50(Vertical)
ISO-F-50
ISO-F-80
ISO-F-100
Outlet port
KF40
Weight
kg
142
220
242
266
Applicable standard
CE, cTUVus
Standard accessory
Instruction manual(CD-R), Power connector, Waterproof cable clamp, Remote connector, Guard for power connector
Pump head option
Power supply : 200V Class or 400V Class, Material of seal : FFKM(L type only)
External option
MBP inlet flange adaptor, Packege Exhaust port, Earthquake-proof Bracket, LR compatible Unit(Inlet, Remote), Purge gas valve
※1: At ultimate pressure (reference only)
※2:Purge gas is not available with C Type.
※3: Max.water vapor tolerance is a value when purge gas is used.
※4:C type is not leakless.