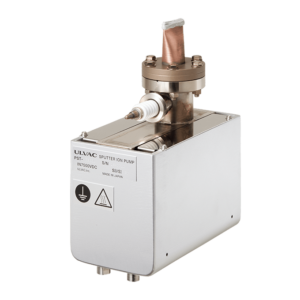 Sputter ion pumps are one type of pump used to create ultra-high vacuum, and are used in many analyzers and accelerators.
ULVAC's acter pumps are designed for developing new elements (acter elements) with improved evacuation characteristics at ultra-high and extremely high vacuum, and to optimize magnetic fields.
Features
Ultimate pressure in the 10-9 Pa order (achieved with test dome complying with ISO standards)
Double the pumping performance achieved by the inert gas enhanced pumping model (type AU)
(compared with the ULVAC's conventional pumps)
High pumping speed attained the ultra-high vacuum
Pumping down to ultra-high vacuum in a short period of time
Top-notch pumping characteristics in ultra and extremely-high vacuum (discharging maintained down to the ultra-high vacuum)
Applications
Accelerators
Electron microscopes
Analyzers
Specifications
Model
PST-030CU/AU
PST-050CU/AU
PST100CX/AX
PST-110AU
PST-200CXII /AXII
PST-400 CXII/AXII
Evacuation speed to 1 x 10-7
N2: 0.03m3/s
Ar: 0.013m3/s
N2: 0.045m3/s
Ar:  0.03m3/s
N2: 0.10m3/s
Ar: 0.08m3/s
N2: 0.11m3/s
Ar:  -
N2: 0.20m3/s
Ar: 0.105m3/s (AXII)
0.02m3/s (CXII)
N2: 0.36m3/s
Ar: 0.19m3/s (AXII)
0.04m3/s (CXII)
Final pressure (Pa)
10-9
10-9
10-9
10-9
10-10
10-10
Operation pressure (Pa) *1
<8.0×10-3
<8.0×10-3
<5.0×10-3
<4.5×10-3
<3.8×10-3
<3.0×10-3
Inner Volume
6.7 X 10-4m3
1.37 X 10-3m3
3.3 X 10-3m3
6.5 X 10-3m3
11 X 10-3m3
14 X 10-3m3
Number of pump elements
1 set
※ anticommutative
1 set
※ anticommutative
1 set
※ anticommutative
2 set
※Replaceable
2 set
※Replaceable
4 set
※Replaceable
Connection flange model
UFC070
UFC114
UFC152
UFC152
UFC203
UFC203
Applied voltage
DC+7.5kV
DC+7.5kV
DC+7.5kV
DC+7.5kV
DC+7.5kV
DC+7.5kV
Standard bake-out temperature
250°C
250°C
250°C
250°C
250°C
250°C
Weight (kg)
9.5
12.8
37
36.5
65
124
External dimensions 
W×D×H (mm)
103×183×187
153×204×241
155×340×340
171x387x293
296x361x376
296x544x376
Recommended Controller
GST-07L-B
GST-07L-B
GST-07L-B
GST-07L-B
GST-07L-B
GST-07L-B
*1) During the time of use of the GST-07L-B Type Controller
The GST-07L-B is a sputter ion pump controller which features sophisticated functions and high-grade reliability. It is the product of ULVAC' s extensive technological reserves and long track record of proven performance in the ultra-high vacuum field.
Features
Compact size and light weightMulti-function performance enabled by CPUControl of all sputter ion pumps (PST series) possible using one controller
Communication functions provided as standard featuresRemote control and automated operations are made possible by the external communication control functions which have been provided as standard features.
XHV supported Pump cell contamination can be reduced to the absolute minimum by the automatic start circuit and soft start functions. (-Patent No. 1340297, etc. pending)
Improved safety functionsThe controller comes with a function which prevents the erroneous operation of its function switches and with interlock functions for protection.Fluorocarbon resin high-voltage cables with excellent resistance to the heat and cold and superb electrical characteristics are used.Restriction of the Use of Certain Hazardous Substances in Electrical and Electronic Equipment (RoHS directive)-supportedCE marking-supported
Applications
Accelerators
Electron microscopes
Analyzers
Specifications
Attachable pump
Actor pump (all models in PST series)
Operating pressure
10-2 to 10-4Pa or lower
Display ranges
Display method
Digital display (on 7-segment LEDs)
Display contents
a)Output current display
Automatic selection of 2 ranges: mA, μA (linear display)
b)Output voltage display
0.0 to 7.5 kV (H or L) (1-range linear display)
c)Pressure display
Pa, mbr
(1×10-8~1×10-2Pa)
(1×10-10~1×10-4mbar)
Output release voltage
DC+7.5kV
(2points, high and low, selectable using front panel switch; high/low voltage setting adjustable from approx.1.0 to 7.5kV using trimmer)
Output current
Less than DC31mA
Input voltage/current
AC100~115V±10% ・ 50/60Hz~3.0A
AC200~240V±10% ・ 50/60Hz~1.5A
MONITOR terminal output signal
Output of signals proportionate to 7-segment panel display,DC 0 to 10V full scale for each range, more than 100kΩ
Pressure setting point
2 points
REMOTE/LOCAL
Selectable using from panel switch
External control functions
Various input/output functions provided (REMOTE connector provided) (Remote, RS-232C communication control)
Protection functions
Error display/various protection functions provided
High voltage(HV) output shutdown ERR 0 to 5 light
Timer setting for startup protection (adjustable from 1 to 255 minutes) Automatic reserving after power failure (HV hold switch operation)
Ambient operating conditions
Temperature
0~40℃
Humidity
Less than 85% (no dew)
Accessories
Output cable (5m), input cable (3m)
Weight
Main unit: approx. 4kg, cables: approx. 1.0kg (standard)
Dimensions W x H x D
240 x 99 x 370 mm {200 x 99 x 370 mm (Except rack mounting bracket)}