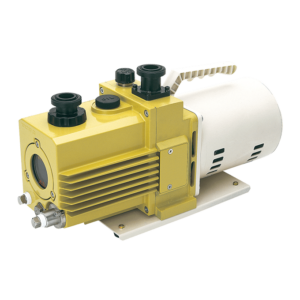 The GCD Series direct drive, oil rotary vacuum pump is corrosion resistant making it an ideal pumping solution for toxic and corrosive gases. Three different sizes are available from 50 to 200 L/min.
Features
Chemical type of Oil rotary pump with surface treatment on the gas contact surface.
Connectable to oil filtration system.
Low noise and low vibration.
The backflow prevention mechanism prevents oil from flowing back to the vacuum chamber when it is stopped due to a power failure.
The exhaust speed is stable due to the installation of the forced oil supply mechanism.
Operation from atmospheric pressure is possible.
Easy connection with flanged parts and connection by knock pins on internal parts.
Specification
Model
GCD-051X
GCD-136X
GCD-201X
Unit
50Hz
60Hz
50Hz
60Hz
50Hz
60Hz

Actual pumping speed

L/min
50
60
135
162
200
240

Ultimate pressure※1

Pa
0.67
0.67
0.67

Motor※2

6.7
6.7
6.7
Full load current
Single phase, 100V, 200W, 4P, Split phase starting
Single phase, 100V, 400W, 4P, Capacitor start/run
Three phase, 200V, 700W, 4P

Oil capacity

mL
5.6
4.8
7.7
6.1
3.45
3.08

Recommended oil

500~800
1,000
1,100

Weight

kg
SO-M
SO-M
SO-M

Inlet port diameter

mm
14.1
25.4
26.6

Outlet port diameter

KF-25
KF-25
KF-25

Ambient temperature

℃
7~40
7~40
7~40
Catalog Download