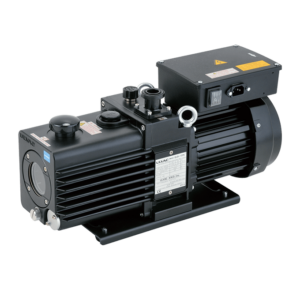 The GLD series of direct drive rotary vane pumps is ULVAC's reliable high performance pump available in a wide range of pumping speeds from 48 up to 336 L/min. Featuring low vibration and low noise the GLD is ideal for a wide range of sensitive applications and is the choice pump for many OEMs.
Features
The two-stage exhaust system has lower pressure (good vacuum) than the one-stage exhaust system.
Low noise and low vibration.
The backflow prevention mechanism prevents oil from flowing back to the vacuum chamber when it is stopped due to a power failure.
The exhaust speed is stable due to the installation of the forced oil supply mechanism.
Operation from atmospheric pressure is possible.
Easy connection by internal components knock pins and maintenance by flange motor
Applications
Chemical, science experiment, Analyzer and Laser system.
Backing pumps for the electronic microscope.
Semiconductor equipments, sputtering equipments, vacuum evaporation equipments.
Vacuum dryer, freeze dryer.
Specification
Model
GLD-040
GLD-137AA
GLD-137CC
GLD-202AA
GLD-202BB
GLD-280A
Unit
50Hz
60Hz
50Hz
60Hz
50Hz
60Hz
50Hz
60Hz
50Hz
60Hz
50Hz
60Hz

Actual pumping speed

L/min
40
48
135
162
135
162
200
240
200
240
280
336

Ultimate pressure※1

G.V.Closed

Pa
0.67
0.67
0.67
0.67
0.67
0.67

G.V.Open

6.7
6.7
6.7
6.7
6.7
6.7

Motor※2

Single phase, 100V~120V/200~240V 200W, 4P, Capacitor start/run
Three phase, 200-240V/380-460V, 400W, 4P
Single phase, 100V~120V/200~240V 200W, 4P, Capacitor start/run
Three phase,
200-240V/380-460V, 550W, 4P
Single phase,
200-240V/380-460V, 550W, 4P
Three phase, 200-240V/380-460V, 750W, 4P

Full load current

A
4.2 (100V), 4.4 (110V)
3.6 (100V), 3.4 (110V)
2.1(200V),
2.2 (220V)
2.0(200V),
1.9 (220V)
6.8
(100~120V)
3.5 (200~240V)
5.8 (100~120V)
2.9 (200~240V)
3.0(200V)
3.1 (220V)
2.7 (200V)2.7 (220V)
3.0(200V)
3.1 (220V)
2.7 (200V)2.7 (220V)
3.6 (200V), 3.7 (220V)
3.3 (200V), 3.2 (220V)
4.6 (115V), 5.05 (120V)
3.4 (115V), 3.6 (120V)
2.3(230V),
2.5 (240V)
1.9(230V),
2.0 (240V)
3.3 (230V)、
3.6 (240V)
2.7 (230V)
2.8 (240V)
3.3 (230V)、
3.6 (240V)
2.7 (230V)
2.8 (240V)
4.0 (230V), 4.2 (240V)
3.2 (230V), 3.2 (240V)
2.1 (200V), 2.2 (220V)
1.8 (200V), 1.7 (220V)
1.3(380V),
1.3 (400V)
1.1(380V),
1.1 (400V)
1.8 (380V)、
1.9 (400V)
1.5 (380V)
1.6 (400V)
1.8 (380V)、
1.9 (400V)
1.5 (380V)
1.6 (400V)
2.1 (380V), 2.3 (400V)
1.9 (380V), 1.9 (400V)
2.3 (230V), 2.6 (240V)
1.7 (230V), 1.8 (240V)
1.4 (415V)
1.15(440V),
1.2 (460V)
2.0 (415V)
1.7 (440V)
1.7 (460V)
2.0 (415V)
1.7 (440V)
1.7 (460V)
2.4 (415V)
1.9 (440V), 2.0 (460V)

Oil capacity

mL
550~800
1,000
1,000
1,100
1,100
700~1,100

Recommended oil

R-2
SMR-100
SMR-100
SMR-100
SMR-100
R-7

Weight

kg
16
26
29
29
29
34.5

Inlet port diameter

mm
KF-25
KF-25
KF-25
KF-25
KF-25
KF-25

Ambient temperature

℃
7~40
7~40
7~40
7~40
7~40
7~40

External dimensions

mm
150(W)×425.5(L)×240.5(H)
170(W)×485.5(L)×240(H)
170(W)×487.5(L)×249.5(H)
170(W)×513.5(L)×240(H)
170(W)×513.5(L)×240(H)
181(W)×536(L)×269(H)
Catalog Download