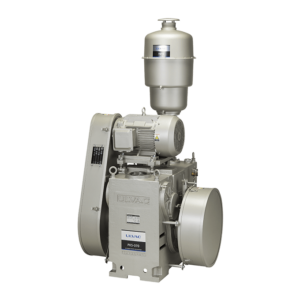 The PKS series models are extremely durable, large oil rotary vacuum pumps with very stable pumping characteristics. They are used in many applications, in areas ranging from the metal and automotive industries, to the chemical, pharmaceutical and food industries.
Features
The single-stage design of the rotary plunger vacuum pump is robust and very reliable.
High-grade cast iron is used, providing strength and resistance to abrasion.
Disassembly and reassembly for maintenance is quite simple. Exhaust valve inspection is also easy.
Specifications
Model
PKS-016
PKS-030
PKS-070
Design evacuation speed
96m3/h(1600L/min)
180m3/h(3000L/min)
420m3/h(7000L/min)
Final pressure *1
2.7Pa
Motor
(number of poles) *2
2.2kW(4P)
3.7kW(4P)
11kW(6P)
Required oil volume
6.5L
8.0L
20.0L
Oil *3
ULVOIL R-7
Cooling method
Air-cooled
Water-cooled
Cooling water
Flow rate
-
3L/min
5L/min
Pressure
-
Gauge pressure : 0.3MPa max.
Outlet/inlet differential pressure
-
Gauge pressure : 0.1MPa max.
Temperature
-
5 to 30℃
Intake size
JIS B 2290
VG50
VG80
VG100
Vent size
JIS B 2290
VF50
VF80
VF100
Weight
(pump + base)
225kg
380kg
(pump only)
900kg
(pump only)
External dimensions W x D x H
590 x 860 x 550mm
720 x 675 x 897mm
970 x 942 x 1127mm
Standard accessories
Operation manual, Oil for 1 pump, Motor pulley
Options
TM-2 oil mist trap
TM-3 oil mist trap
TM-4 (S) oil mist trap
Note:
This specification uses SI measurement units. Conversion to non-SI units is as follows :
Final pressure : 2.7 Pa = 2 x 10-2 torr; Water pressure: 0.3 MPa = 3 kg/cm2
*1 Measured by Pirani vacuum gauge (Approx. 1.5Pa when measured with a McLeod vacuum gauge)
*2 When ordering, specify whether you require a motor, and if you do, specify its type, voltage and frequency. Totally enclosed fan-cooled flange motors, increased safety flange motors, and explosion-proof flange motors are available as options.
*3 Other oil types are available. Contact ULVAC's Sales Department.
Catalog Download