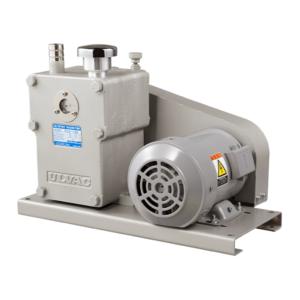 The PVD series are belt-driven compact rotary vacuum pumps with outstanding evacuation characteristics. They are used by a large number of ULVAC customers.
Features
Consistent pumping performance
Low vibration and low noise
Because the pump body is machined from a single aluminum block casting the unit has fewer parts to maintain.
Oil-backflow prevention(PVD-B series)
Specifications
Model *1
PVD-180(B)
PVD-360(B)
Design pumping speed
50Hz
9m3/h(155L/min)
19m3/h(310L/min)
60Hz
11m3/h(186L/min)
22m3/h(372L/min)
Final pressure *2
6.7 x 10-1Pa
Motor (number of poles) *3
0.4kW(4P)
0.75kW(4P)
Motor speed
50Hz
500rpm
60Hz
600rpm
Required oil volume
0.3L
0.5L
Oil *4
ULVOIL R-7
Cooling method
Air-cooled
Intake pipe size
inner diameter x outer diameter
Φ28mm x Φ19mm
Φ34mm x Φ27mm
Vent pipe size (JIS pipe screw thread)
G3/4(PF3/4)
G1(PF1)
Weight (pump + base)
33.5kg
43kg
External dimensions
W x D x H
235 x 450 x 321mm
275 x (500) x 321mm
Standard accessories
Base, belt cover, motor pulley, V-belt, oil for 1 pump
Options
TMX-1 oil mist trap, oil mist trap adapter, C-1/2 base with handle and casters
Note:
This specification uses SI measurement units. Conversion to non-SI units is as follows
Final pressure : 6.7 x 10-1 Pa = 5 x 10-3 torr
*1 PVD-B series models : PVD-180B and PVD-360B are versions of PVD-180 and PVD-360 with oil backflow prevention mechanisms.
*2 Measured by pirani vacuum gauge (about 6.7 x 10-2 Pa with macLeod vacuum gauge)
*3 When ordering, specify whether you require a motor, and if you do, specify its type, voltage and frequency. Totally enclosed fan-cooled motors, increased safety motors, and explosion-proof motors are available as options. (Except PVD-B series)
*4 Other oil types are available. Contact ULVAC's Sales Department.
Catalog Download