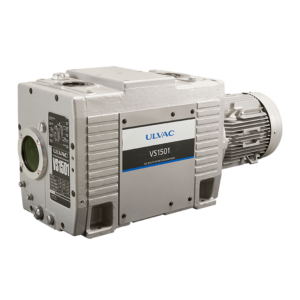 VS series is a single-stage oil rotary vacuum pump coupled with a direct-drive motor. ULVAC's simplified design gives this lightweight pump the features of compact size along with low vibration operation. The substantial reduction in vibration of the VS series pump can help reduce the costs associated with having to perform special foundation work in facilities where vibration can be problematic. Additionally, enhancements in both the oil circulation and cooling systems result in increased stability of pumping performance at high inlet pressures. These VS series pumps are typically used in a wide range of applications, especially those having a large number of repetitive pumping steps that cycle from atmospheric pressure, such as in the automated leak testing of parts, as well as numerous other industrial applications.
Features
Low vibrations and noise
Lightweight, compact
Enable continuous operation at full pressure
Outstanding ease of maintenance
Applications
Evaporation, sputtering, ion plating
Vacuum packaging, vacuum adhesion, transport
Vacuum heat treatment furnaces, sintering furnaces, brazing furnaces, brazing
Vacuum drying, freeze-drying, vacuum deairing
Gas substitution/supply, vacuum insulation
Automated leak testing, etc.
Specifications
Model
VS1501
VS2401
Design evacuation speed
50Hz
150m3/h(2500L/min)
240m3/h(4000L/min)
60Hz
180m3/h(3000L/min)
288m3/h(4800L/min)
Final pressure *1
5.3Pa
Motor *2
Type
Totally enclosed fan cooled motor
number of poles
5.5kW(4P)
7.5kW(4P)
Voltage/frequency
200V/50,60Hz 220V/60Hz
Required oil volume
8.0~10.5L
Oil *3
ULVOIL R-7
Cooling water
Pressure
≦ 0.5MPa (gauge pressure)
Flow rate
4L/min
5L/min
Temperature
5~30℃
Intake size
JIS B 2290
VG80 size
Vent size
JIS B 2290
VG50 size
External dimensions W x D x H
940 x 352 x 460mm
1062 x 352 x 460mm
Weight *4
240kg
280kg
Standard accessories
Motor (attached), oil for 1 pump,
operating instructions (1 copy)
Options
Oil mist trap, gas ballast valve, oil return mechanism
Note:
SI units are used in this specification. The following conversion can be used for non-SI units.
Ultimate pressure: 5.3Pa=4 x 10-2 Torr
Cooling water presuure: 0.5MPa=5kg/cm2
*1 Measured by pirani vacuum gauge
*2 Options: The pump is also compatible with a increased safety explosion-resistant motor and pressure-proof explosion-resistant flange motor.
*3 Other oil types are available, upon request.
*4 Values in parentheses indicate the weight of the pump unit only.
Catalog Download