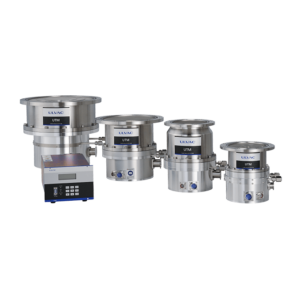 The UTM-FH and UTM-FW is compound turbo molecular using 5 axis magnetic levitation and digital controlled and realized advantages such as high performance and reliability and energy savings. The UTM-FH series, which has improved compression ratio for hydrogen, is high back pressure and high compression type and for light to middle processes. The UTM-FW series is wide range and high flow type and for high load process and middle~hard processes.
Features
There is not limitation to combine any power supply and pump main unit to change cable length because of using coupling free system and tuning free system.
Variable speed system marks it possible to change the pumping speed in the rang from 25% through 100%.
Excellent anti-corrosion surface treatment. Optional special surface treatments (e.g. Nickel plating + cation electro-deposition, special deposited film, aluminum anodization) are available as necessary.
Optional internal heating system to control rotor temperature and reduce adhesion of side reaction by-products.
Safety design with fracture energy absorption construction can reduce damage on vacuum system when trouble happened with the pumps.
Applications
Main evacuation of middle to hard processes such as dry etching, CVD system, etc.
Specifications
Wide range and high throughput models
High back-pressure and high compression models
Inlet flange size
N2pumping speed(L/s) *1 *2
-
UTM-6300FH
VG500
6300
UTM-3301FW
UTM-3303FH
VG350
3300
UTM-2300FW
-
VG300
2730
VG250
2230
ICF305
2110
UTM-1400FW
-
VG250
1490
VG200
1360
ICF253
1300
UTM-1001FW
UTM-1001FH
VG200
1000
ICF253
1000
UTM-800FW
UTM-800FH
VG150
810
ICF203
740
UTM-480FW
UTM-480FH
VG150
480
ICF203
480
UTM-350FW
UTM-350FH
VG100
350
ICF152
330
| | |
| --- | --- |
| *1 | Value measured in accordance with JVIS005 standard, or calculated value based on it |
| *2 | Protective mesh isn't used. |