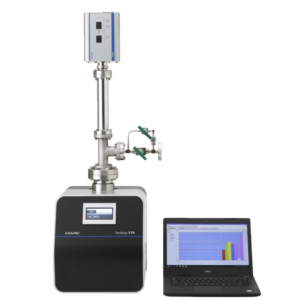 A variation of Qulee, adding new features in response to customer needs. By adding a differential pumping unit, the Qulee provides measurement and analysis capabilities for process management and residual gas analysis.
Features
Excellent Cost Performance
Provides gas analysis with an optional differentialpumping unit
Compact Design
Utilizes standard vacuum unit model desktop YTP
Integrated Display Unit Design
Provides visual data without need for a PC
Easy to Operate
One-click function for easy operation, no complex procedures
Atmospheric Pressure Analysis
Selectable maximum measurable pressures 3000Pa,500Pa,100Pa, 10Pa and 1Pa
(22.5Torr, 3.75Torr, 0.75Torr, 7.5×10-2Torr and 7.5×10-3Torr/30mbar, 5mbar, 1mbar, 0.1mbar and 1.0×10-2mbar)
Select a Model Depending on your Application
Select from the mass numbers 1 to 100 (BGM2-101/102), 1 to 200(BGM2-201/202), 1 to 300(HGM2-302)
Low noise
43dB(A) or less at Ultimate pressure
Pressure indication
Designed for easy integration of 2 vacuum gauges
Complete Leak Test Function
Helium leak test, air leak test, leak up test
Qulee QCS Ver.4 (Ethernet compatible)
Software included (Windows 7/8/10)
Applications
Various types of gas analysis for research and development
Gas monitoring of PVD system during processing
Residual gas analysis in PVD system
Residual gas analysis for high vacuum pumping equipment, etc.
Specifications
Qulee main body
Select from Qulee BGM2-101/102/201/202, HGM2-302
Max sampling pressure
Select from atmospheric pressure 3000Pa/500Pa/100Pa/10Pa/1Pa
Select from atmospheric pressure 22.5Torr/3.75Torr/0.75Torr/7.5×10⁻²Torr/7.5×10⁻³Torr
Select from atmospheric pressure 30mbar/5mbar/1mbar/0.1mbar/1.0×10⁻²mbar
Gas induction (500 to 1Pa type/3.75 to 7.5×10⁻³Torr type/5 to 1.0×10⁻²mbar type)
Manual bellows valve・Flange ICF070
Atmospheric pressure type
Please contact us for the detailed specification on separately.
Pump unit Desktop YTP

(YTP70A-D)

TMP
Pumping speed 70L/s(N₂)
Dry pump
Pumping speed 20L/min
Ultimate pressure
Below 10⁻⁶Pa (7.5 × 10⁻⁹ Torr, 1.0 × 10⁻⁸ mbar) (value after TMP bale out)
Input voltage
Single phase AC100 ~ 240V, 300W
Software
Qulee QCS Ver.4.0 (Windows 7/8/10)
Optional accessories
Ioniation gauge package (SH-1, Sensor head cable 2m,Cross tube,Bolts,Gaskets),Carry cart,USB-LAN adapter,Switching hub(8 ports or 16 ports)