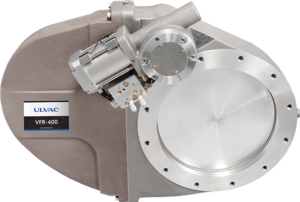 ULVAC's VFR series Large Pendulum Valve (gate valve) offers a compact design with unique technology. Applications include OLED, PV,Glass, FPD, and other manufacturing systems.
Features
Due to ULVAC's unique differential pressure mechanism the ULVAC VFR pendulum valve minimizes particles, valve wear, and vibration during normal operating conditions.
The valve casing is easily removed without removing the valve from vacuum system or pump. After removing the valve casing, the valve plate can be removed only picking a bolt, and the the valve is readily maintained.
The ULVAC VFR series valves can be installed anywhere in vacuum system. Free rotation and installment angle is flexible (360-degrees).
Applications
Large display manufacturing systems
OLED manufacturing systems
Other vacuum systems as main valve and gate valve
Specifications
Model
VFR-400
VFR-500
Common port diameter
Φ400mm
Φ500mm
Flange specification
(JIS B2290 equivalency)
VF400
VF500
Open/close specification
2 positions
Open/close operation principle
Pneumatic
Open/close time
8sec
12sec
Valve plate seal
Reverse pressure capable
Open conductance
50000L/s
90000L/s
Pressure range
1.0×10-5Pa~0.12MPa(abs)
Allowable baking temperature
(at stopped)
Valve body : < 120℃
Cylinder : < 80℃
Valve body : < 248F
Cylinder : < 176F
Allowable ambient temperature
10 to 80℃
50 to 176F
Allowable Gass temperature
10 to 80℃
50 to 176F
Compressed air pressure
0.50 to 0.70MPaG
72.5 to 101.5psi
5.0 to 7.0bar
Compressed air supply port
Φ8 tube connection
Maintenance cycle
100,000
Mouting angle
Free
Main parts material
Valve body : AC4CH-T6
Seal plate : AC4CH-T6
Seal material
Vacuum side:FPM
Oil
Z300
Weight
98kg
155kg
Flange to flange dimension
150mm
170mm