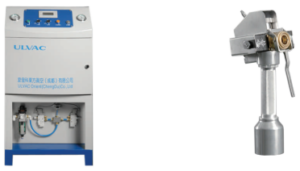 RC Series Charging Machine is a perfect solution for high for high accuracy and fast speed charging,integrating multiple advantaged and advanced technology.necessary choice quantitative production.
Features
Wide suitability,be able to charge R22,R134a,R407c,R410a etc. refrigerant.
Flexible operating mode combination,available to charge one refrigerant,or charge two refrigerants at the same time
Stable operating performance.Mass flow meter, pump etc. main components are manufactured by world leading supplier, ensuring charging accuracy and speed.

Ergonomic and human factors are taken into design concept, adopt PLC+LED touch screen control, human-to-machine interaction is easy and quick, strong function expansion. It has communication connection port, can be connected with barcode scanner, label printer, IPC etc

In-industry advanced refrigerant consumption control technology, optimizing inner space of charging gun.

While charging at high speed, residual refrigerant in the charging gun is effectively reduced
Continuous exploration and breakthrough, leading revolutionary innovation of control technology in industry
◆ Precision control intelligent calibration technology;
◆ On-line charging amount monitoring alarm technology;
◆ Intelligent fault diagnosis technology
◆ Special condensing water control technology of charging nozzle, effectively preventing moisture content from
exceeding standard.
Specifications
Model
RC-11
RC-21
RC-41
RC-61
Type
1 Refrigerant
2 guns charging simultaneously
4 guns charging simultaneously
6 guns charging simultaneously
Refrigerant

Liquid non-explosive refrigerant such as R22, R134a, R407c, R410A

Metering System

Mass flow meter

Charging Speed

20g/s-260g/s

Accuracy

Charging amount: 50~1000g,±3g


Charging amount: 

>1000g,±0.3%

Pumping Speed

4L/s or 8L/s (Settable)

System Vacuum

≤10Pa

Charging gun
1
2
4
6
Gun Length

4m(customizable)

Quick Coupler

1/4", 3/8" customizable

Control System

PLC+Touch screen

Function System

Bar code scan, Label print, IPC,etc

Language

Chinese,/English/Japanese and others

Power
2KVA
4KVA
6KVA
8KVA
Voltage

380V/50HZ

Compressed Air

0.5-0.7MPa