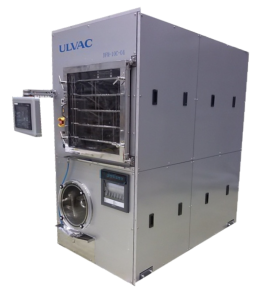 Vacuum Freeze Drying / Vacuum Drying System for low-volume production and research by the pharmaceutical industry require space-saving designs, low cost and high functionality. ULVAC has released the DFM Series to meet these demands.
Features
Touch-panel operation, operation display, warning display, maintenance display
Shelf temperatures can be controlled by programs.
Completely automatic operation
Electronic expansion valve is provided standard.
Shelf plates are temperature-controlled by circulating a heating medium.
Standard lineup includes models supporting C/SIP.
Applications
Low-volume freeze-drying processes for pharmaceutical products
Specifications